Lilly has what I like to call "Princess and the Pea" complex. She absolutely believes she's a princess and how dare anyone say otherwise. She's a little diva and loves to be toted around and spoiled rotten. One touch and she'll roll to her back to allow you the pleasure of rubbing her belly. She always graciously rewards you with kisses and hugs for your cooperation. There is not a soft spot in the house that she doesn't believe is solely there for her. She enjoys movies on the couch and naps in the shade. She does love her squeeky toys and gets so excited when she hears them from another room. To open up her playful side we take her out to the yard where she explores and socializes with the neighbors and their cats. She's an amazing little lady that is going to love to be groomed and dressed up, preferably with sequins.
If interested contact Erin@DoodleMatch.com
Chocolate has a beautiful curly red coat that compliment his green eyes and basically make him the prettiest dog on the block. He'll be between 35-40 pounds full grown and would be an excellent match for you if your family suffers from allergies. He has the perfect Australian Labradoodle temperament. He's calm yet playful and loving. Chocolate really wants to be with his people. He follows the children around and just waits for an opportunity to get some serious kisses in. He is very keen to his human's emotions, and seeks to please always. He loves swimming and water play with the hose. He can jump like a kangaroo (which he gets from his momma) and plays a mean game of tetherball too.
If interested contact Erin@DoodleMatch.com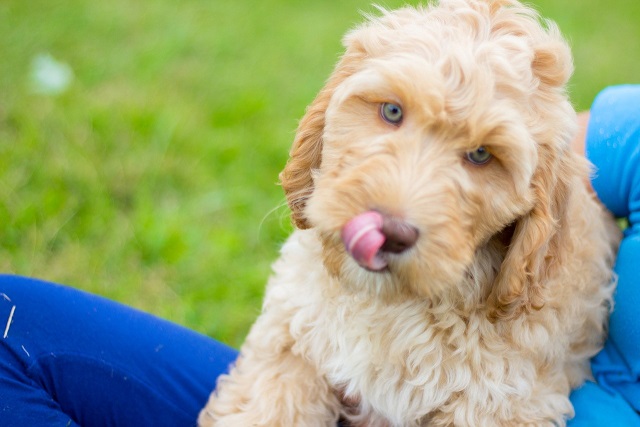 Chip is as sweet as his namesake. He's going to be between 35-40 pounds with a blonde wavy fleece coat. We named him Chip because he brings the flavor. He is ornery in a fun way and loves playtime with the kids and other dogs. He's usually the first to bound through the door to get to a tennis ball. He especially loves the smaller puppies and is often caught snuggling them instead of his siblings. Chip really likes to watch tv, especially when there's another dog on. He's engaging and learns very quickly. He's already learned that every soft blanket should be his and that I'm a sucker for green eyes.
If interested contact Erin@DoodleMatch.com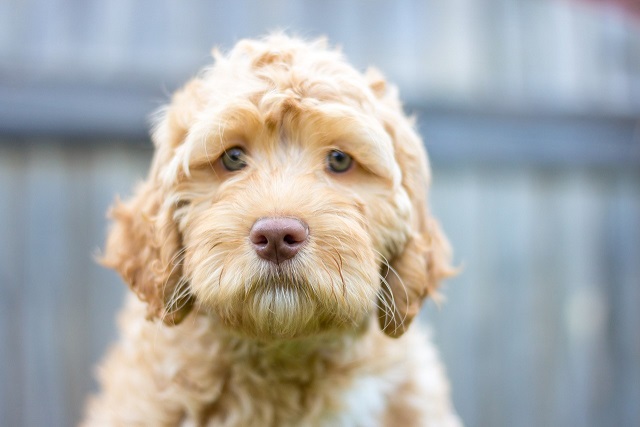 Bear is a large medium boy with a wavy fleece coat. He will be between 35-40 pounds full grown. Bear is a big lazy lover. He loves naps and snuggles more than anything, but don't let him fool you! He's got a fun and playful heart too. He loves to play in the water and doesn't know a stranger.
If interested contact Erin@DoodleMatch.com