---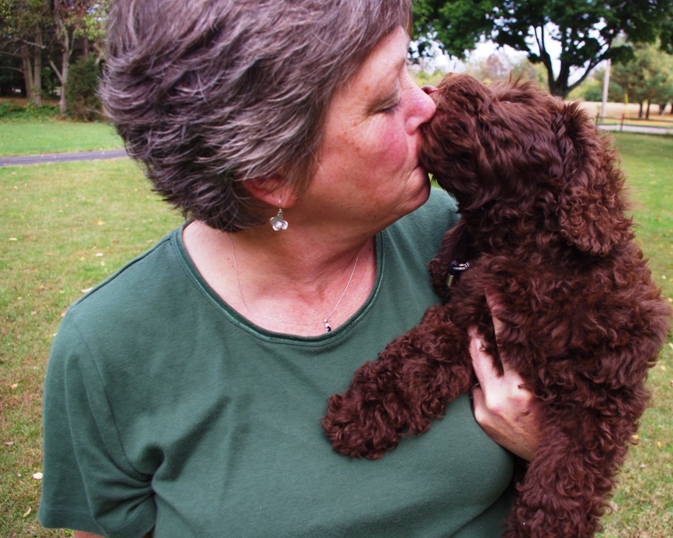 ANNOUNCING OUR NEW
TRAINING PROGRAM
We are thrilled to work with our new trainer, Gayle Mulvey, who has an impressive resume, tons of training experience, and a huge heart! Gayle is offering training for our puppies starting at ten weeks of age, which includes crate training, housebreaking, basic obedience (sit, down, come, stay, leash manners), and plenty of socialization. She has openings now, and is currently training two of our puppies.
See Training Video on Facebook
Gayle offers tips for new owners, and can make your transition into pet ownership a smooth and enjoyable one.
While I love raising your tiny doodle babies, training is not my strong area, unless you consider teaching your doodle to sit on your sofa, jump on you and kiss you on the lips! J I'm so pleased to join with Gayle to make puppy ownership easier and more relaxed for folks with no puppy-raising experience.
Pawsitively Positive
Puppy Life Introductions
Introductions of the human/puppy bond and connection
Sustained eye contact
Puppy will understand his/her name is significant to him
Puppy will meet people of different ethnicities and children of various ages
Comfort in the crate
Puppy will sleep comfortably in his crate
Puppy will learn that his crate is his comfort zone and "happy place"
Introduction to potty training
Puppy will be introduced to outdoor toileting
Lots of rewards for good choices
Introduction of basic commands
Puppy will learn to sit using both verbal and hand signals
Puppy will be introduced to the leash and walking on a loose leash
Puppy will wait at doorways and learn deference in close quarters
Puppy will learn to down, sit-stay, settle and come when called
Introduction to Grooming
Puppy will be familiar with a grooming table, bathing, nail grinding
All interaction will be with positive reinforcement; a gentle, calm training method that promotes the well-being and spirit of the puppy for ultimate bonding, confidence and personality.
This is a most delightful breed, eager to learn and trust. They are sensitive and would wilt with a rough hand. They are eager to greet the world!
Gayle Mulvey- "I first started training dogs at the age of 14, got my first CD (companion dog) title at 16, as young as the AKC allowed at the time. I went on to get open and utility titles with my Sheltie and took her with me to college. Over the years I have competed and/or participated in AKC obedience, Schutzhund, field trials, agility, Rally-O and freestyle. I worked at PetSmart for the past ten and half years as the Area Trainer (training trainers), and taught approximately 16 classes a week. A passion for training and watching people really enjoy their dogs is my priority. I use positive reinforcement and create an upbeat and fun atmosphere in my classes. I have trained well over 100 dog-and-parent "teams" to become Canine Good Citizens and Therapy Dogs, and relish having my former students bring joy to others."